Seamer
The Seamer store of the Proudfoot Group family was the very first store opened. It was opened by Wilf Proudfoot in 1948, and has since become a role model convenience store leading the way in reducing its carbon footprint.
The last of the transformations took place in 2007 where the shop was fitted with energy efficient freezer and refrigeration units.
The building was insulated to a very high standard and sky tunnels where used to harness natural light onto the shop floor, thus significantly reducing the electrical consumption. The Seamer Eco store also houses the local post office.
The Proudfoot Groups, Seamer Eco-Store has won many accolades and awards for its green credentials, such as the "Retail Industry Award for Environmental Retailer of the year independent" and "Warbutons Community Awards, Green Retailer Award".
Opening Times

Store

Monday - Saturday 06:30 - 21:00
Sunday 08:00 - 21:00

Post Office

Monday - Friday
09:00 - 13:00 and 14:00 - 17:30
Saturday 09:00 - 12:30
Sunday Closed

Facilities

Post Office
National Lottery
ATM
Parking For 8 Vehicles

Contact

Address

68 Main Street, Seamer, Scarborough,
North Yorkshire YO12 4QD

Telephone

01723 863168
---
Seamer Store Manager: Vicki Wilson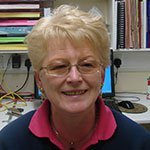 Started: 16th July 1978
Years Of Service: 41
Quotation From Vicki
Seamer store supports their customers through the pleasant and helpful way that our staff treat and greets our cherished customers. When needed, a helping hand is given to customers who are struggling with their shopping and, when it is needed, the shopping is done for hem by a member of staff. If there is a request or suggestion from a customer that cannot be answered in store, then the staff make every effort to find an answer promptly and efficiently from head office. If you ask for a product we do not stock, then we try and trace the product at one of our other stores and find out if we are able to get the product in stock ourselves.
Seamer store is indeed an integral part of the community. This store provides for the young and the not so young alike. It is a place where customers enjoy doing their shopping, as they meet up with others and chat.